HAMILTON — CHCH-TV, Canada's oldest independent television station, moved into a new home this week.
After being located in downtown Hamilton for 67 years, CHCH-TV now operates its broadcast and commercial operations at a new address on Innovation Drive in a suburban area of ​​the city.
The station began broadcasting from its new studio on Monday. The newly built facility features 7,000 square feet of all-digital, 4K-enabled broadcast space, which is the new home for the station's flagship daily shows, morning live and CHCH Evening News at 6 p.m. and 11 p.m.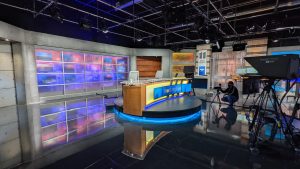 Signature elements of the studios include a 360-degree anchor desk with fully adaptable lighting, a "Gate 11" sports desk built in the style of Hamilton's Tim Hortons Field, a triple-monitor backdrop with a line of stylized skyline stretching from Toronto's CN Tower to Hamilton City Hall to the Skylon Tower in Niagara Falls, another 12-monitor backdrop and portable control room to allow CHCH-TV to produce live on-site special sporting events and concerts.
"The new state-of-the-art studios, combined with improved broadcast technology, an expanded press room and dynamic spaces for employee, customer and guest collaboration, will enable CHCH-TV to expand its broadcast and digital coverage to bring local, provincial services. , and national audiences more news, information and entertainment than ever before," a press release read.
The process of moving CHCH-TV to a new home took years, according to the release, and the transition to Innovation Drive began in October 2018 when CHCH-TV station owner Channel Zero Inc. purchased the property.
"After nearly a decade of careful planning, we found ourselves with the unique chance to reinvent and reimagine what our future could look like from the ground up," said Chris Fuoco, vice president of sales and marketing at Channel Zero, in the release. .
"The location we've had for many years has served us so well. But it was a goal, for traditional television. Nowadays, we need adaptable spaces that allow us to be operational with emerging technologies, as we have been from day one in this new environment. I see this building as a bridge or transition to what the future of television and media may become," Fuoco said.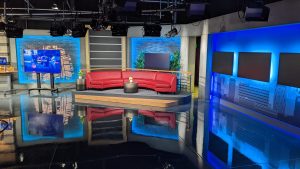 The new facility includes open-concept office configurations and the latest in remote video conferencing technology, the statement said.
"Renovated workstations, bookable hotel spaces and meeting areas equipped with self-contained cameras and electric vehicle charging stations are features that speak to a new work culture that values ​​employee and guest safety. , environmental responsibility, team collaboration and connectivity intended to stay post-pandemic," the statement read.
As our readers know, Cartt.ca Editor Greg O'Brien is CHCH-TV's News Director.
"In our previous office and especially during the long periods of the pandemic, everyone was separated, in a way that we shouldn't be," O'Brien said in the statement. "We want to have open conversations, we want to talk about news, talk about content and have fun. From day one at Innovation Drive, we've been able to do all of this, stay safe, and deliver even better content to our viewers, broadcasting from the newest studio setup and newsroom in the country.
CHCH-TV's new location at 4 Innovation Drive is home to 65 full-time and 23 part-time employees, with more to follow in the coming months, according to the release.
"The completion of this project is truly remarkable," said John McKenna, executive producer of CHCH News for 23 years. "Over the past 15 years, an incredible number of media outlets have closed or suffered unfortunate layoffs. Investing in this type of newsroom in today's media environment shows CHCH and Channel Zero's commitment to quality local journalism in Canada.